tv digital amplifier vp2 - Vision Plus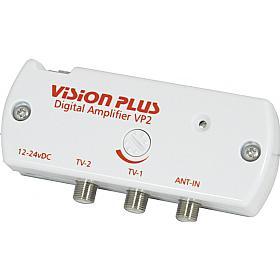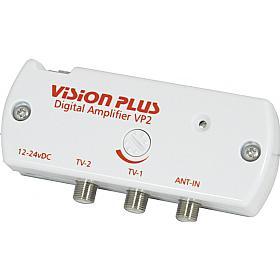 tv digital amplifier vp2 - Vision Plus
NOTE: This is a Special Order item and delivery can take up to 14 days more info...
---
Product details
The Vision Plus VP2 Digital Amplifier is fully wideband for television transmissions and is designed to be used with Vision Plus STATUS antennas with orange logos that do not have pull-out telescopic.
The VP2 can also be used with the following range of antennas that only provide a TV output: IMAGE 410, IMAGE 420 IMAGE 440, IMAGE 610 and IMAGE 620.
This powerful amplifier with high gain and low noise capabilities will ensure improved performance, especially in those areas that suffer with poor reception.
Specification:
On/Off switch
Variable gain control
2 TV outputs
Frequency Range UHF 470-862 MHz
Amplifier Gain Max 17dB
Gain Adjustment 0 to ≃ 15 dB
Noise Figure 2.2dB
Output Impedance 75ohms
Signal Handling 80 dBμV
Power Supply 10.8-28v DC
Power Consumption 55 mA
Dimensions 115wx46hx28d (mm)
The amplifier requires a 12-24 volt power supply from a fused auxiliary outlet fed from the battery. If wiring direct to a battery we recommend an in line fuse (max 5A) on the positive wire. If unsure please consult with a qualified installer.
Product Code 09-6005/VP2
Product reviews
Be the first to review this product.