Fenwicks Bobby Dazzler Shield Spray 250ml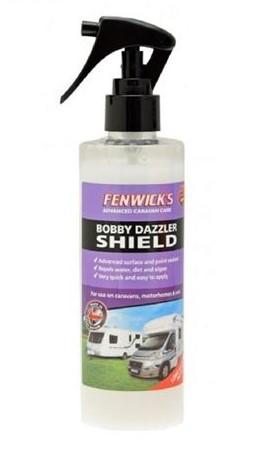 Description
Bobby Dazzler Shield is a very effective paint sealant which is very quick and easy to apply. Designed to seal and protect paintwork, metalwork and plastics from the harsh environment. Its long-lasting formula penetrates easily and deeply to seal and protect with minimum amount of fuss. It reduced washing times and effort to a minimum. Give your van the season long protection it deserves!
 How to use Fenwick's Bobby Dazzler Shield
 Make sure the surface to be treated is perfectly clean and dry before application
 Step 1: Apply a small amount of Fenwick's Bobby Dazzler Shield to a clean microfibre cloth. 
Step 2: Wipe evenly over the surface, apply more Bobby Dazzler Shield as the cloth dries
Step 3: Cover each area twice, this ensures even and full coverage.
Step 4: Wipe over the treated surface with a the clean microfibre cloth to enhance the shine and finish
Step 5: Allow the surface to cure for 4-6 hours in a dry place
Earn
0
reward points with this purchase
add this product to your wishlist