dorema quattro caravan porch awning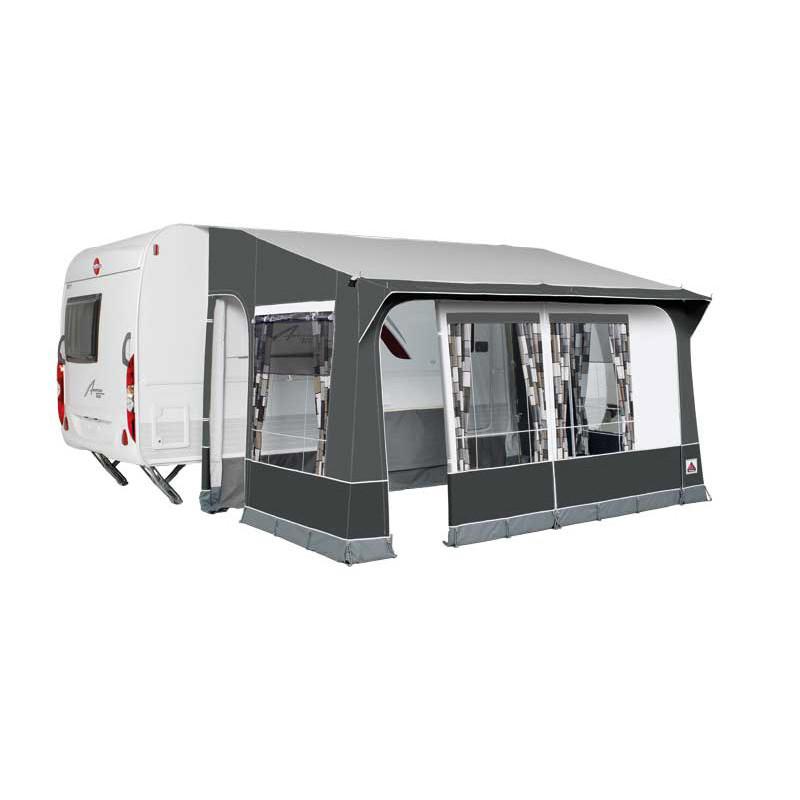 Description
This dorema family porch is now available in 4 sizes and is designed for the camper who demands extra space and comfort. The 225 and 275 models have been designed for the touring campers and has the option of a 25mm steel easygrip frame or lightweight aluminium easygrip frame. 
The 380 and 430 models are specifically designed for todays seasonally sited and winter campers. The extra strong Ten Cate materials along with the option of the standard 25mm steel frame or to upgrade to a 28mm steel frame and winter package.
Details and dimensions:
Roof and wall material: Ten Cate All Season coated polyester, coated outside, easy to clean the front panel can be rolled down or zipped out and the side panels has a door and window both on the left and right-hand side.
Height: 235-255cm
Colour: charcoal/grey
Size:

Quattro 225: width 225 x depth 200cm
Quattro 275: width 275 x depth 200cm
Quattro 380: width 380 x depth 200cm
Quattro 430: width 430 x depth 200cm

Roof beading:

Quattro 225: 195cm + 2x 20cm
Quattro 275: 245cm + 2x 20cm
Quattro 380: 340cm + 2x 20cm
Quattro 430: 390cm + 2x 20cm

Frame:

Quattro 225 and 275: 25mm steel or aluminium
Quattro 380 and 430: 25mm steel or 28mm steel
Optional extras: winter package for 380 and 430 with 2 extra roof poles and 3 extra storm poles | roof lining for 380 or 430 | safe lock system | veranda pole | rail stopper
Earn
0
reward points with this purchase
add this product to your wishlist